Metamorfosi Sotiros Monastery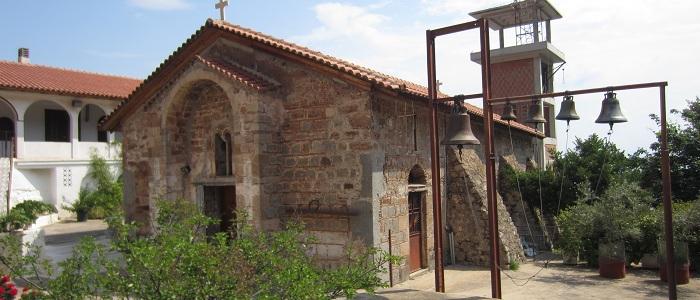 Also known as "Karya Monastery" or "Agia" or "Agia Sotira", the beatiful monastery is situated 4 km above spa city Kamena Vourla in 310 m height with exceptional view.
Initial structured is estimated about 7 century A.D. The Catholic was structured beteween 11 and 12 century A.D. Initially it was basilica with dome destroyed by Turks. The roof was renovated in 1600 A.D.as the initial plan while for walls stones from 5 century B.C. were used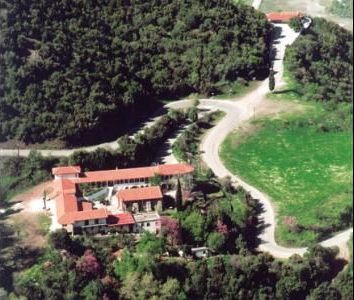 Between 1725 - 1757 was made the current painting of the monastery which has a lot of wear. The previous one was destroyed. Above the entrance is written:
"ΑΝΙΣΤΟΡΗΘΗ Ο ΘΕΙΟΣ ΚΑΙ ΠΑΝΣΕΠΤΟΣ ΝΑΟΣ ΤΗΣ ΜΕΤΑΜΟΡΦΩΣΕΩΣ ΤΟΥ ΚΥΡΙΟΥ ΗΜΩΝ ΙΗΣΟΥ ΧΡΙΣΤΟΥ ΑΡΧΙΕΡΑΤΕΥΟΝΤΟΣ
ΤΟΥ ΘΕΟΦΙΛΕΣΤΑΤΟΥ ΕΠΙΣΚΟΠΟΥ ΑΓΙΟΥ ΜΕΝΔΕΝΙΤΣΗΣ ΚΥΡΙΟΥ
ΚΥΡΙΟΥ ΓΡΗΓΟΡΙΟΥ ΔΙΑ ΣΥΝΔΡΟΜΗΣ ΚΑΙ ΕΞΟΔΟΥ ΤΟΥ
ΠΑΝΟΣΙΩΤΑΤΟΥ ΑΓΙΟΥ ΚΑΘΗΓΟΥΜΕΝΟΥ ΚΥΡΟΥ ΑΡΣΕΝΙΟΥ
ΕΝ ΕΤΕΙ ΑΨΝΖ (1757) ΝΟΕΜΒΡΙΟΥ 15"

which means that this temple was structured during the service of bishop Grigorios under the funds of abbot Kyros Arsenios
During the 400 years of Turkish possesion the monastery served and helped the Cristians and the revels of the region. In 1833 was abandoned. During World War II was a shelter for the village people. It reopend in 1964 and renovated in 1975 to its present form with the help and funds from donations .
Religious holiday August 6th
Distance 5,5 km ( Google map Instructions)
Phone contact: 2235022209